Olympus invited everyone interested in photography to the Perspective Playground from the 1st to the 24th of September to use the camera to capture interactive works by various international artists. The entrance is free and you get the camera from Olympus, you can even take home the memory card with your pictures. The handed out cameras range from beginners to professional cameras.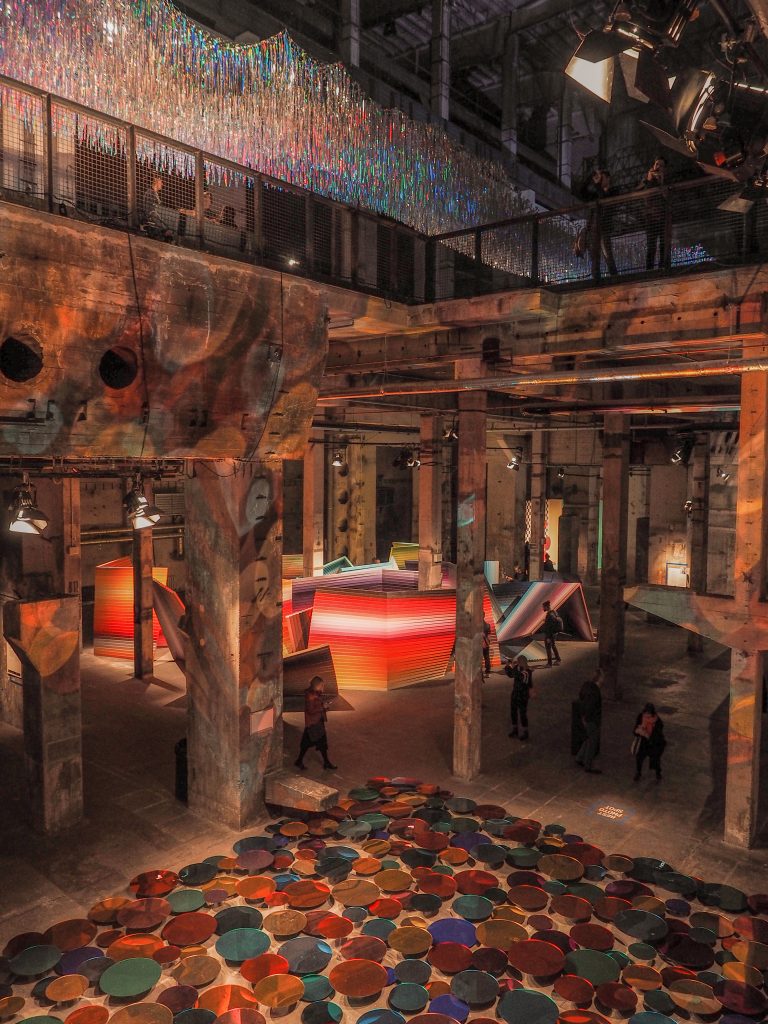 I chose the professional version and got the Micro Four Third camera Olympus E-M1 together with the Olympus M 12-40mm f / 2.8 Pro lens. Premiere - I have never photographed before with an Olympus camera and now held the "best professional, mirrorless compact system camera" (according to Tipa Awards 2017) in my hands.
At the playground itself there is plenty to discover, you should have enough time to explore everything. Let's see what the equipment has on it. In the first part of the article I would like to show the first three works of art that were to be admired on the playground:
Patrick Shearn / Poetic Kinetics - Neo Prayer Flag
Xaver Hirsch - Life is a vortex and not a stroke
Liz West - Our Color Reflection
---
PATRICK SHEARN / POETIC KINETICS - "Neo Prayer Flag"
Throughout the entire upper floor is the "Neo Prayer Flag", an installation of metallised plastic bands reminiscent of tinsel stripes and suspended from a net hanging from the ceiling. Through the current of air, the huge installation is constantly in motion and the eye follows the meandering path that conjures up a shimmering play of colors on ceilings and walls, through the rough power plant terrain.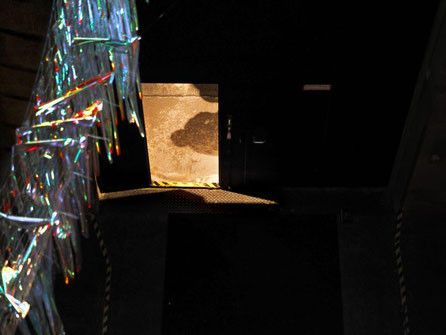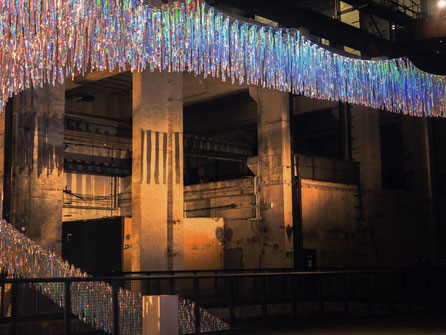 ---
XAVER HIRSCH - "DAS LEBEN IST EIN WIRBEL UND KEIN STRICH"
("LIFE IS A WHIRL AND NOT A STROKE")
On the second floor, where a few weeks ago the "projection screen" was shown at the Berlin Atonal Festival, the audiovisual installation of Xaver Hirsch can now be found, with the very fitting title "Life is a whirl and not a stroke".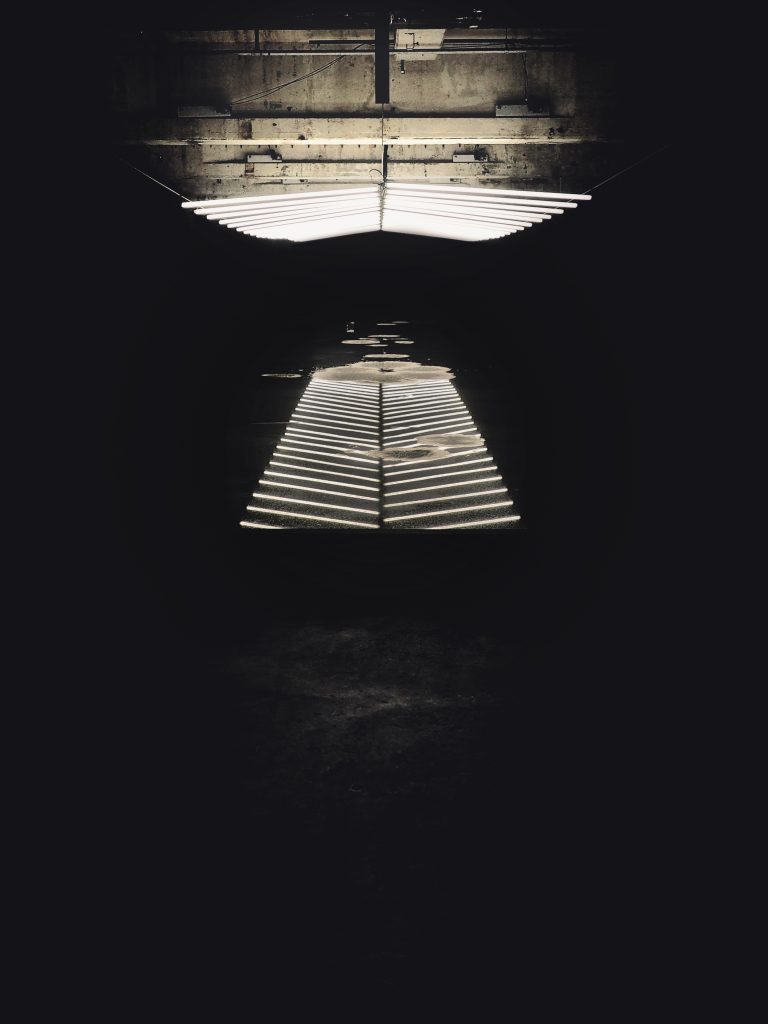 The viewer becomes a participant, the installation a living organism of light and sound, based on the factors of time and chance. Just as life is "a vortex and not a stroke", it is broken with the expected rectilinear movements and again and again changed reflections of symmetrical shapes in the water are brought to life by the bass.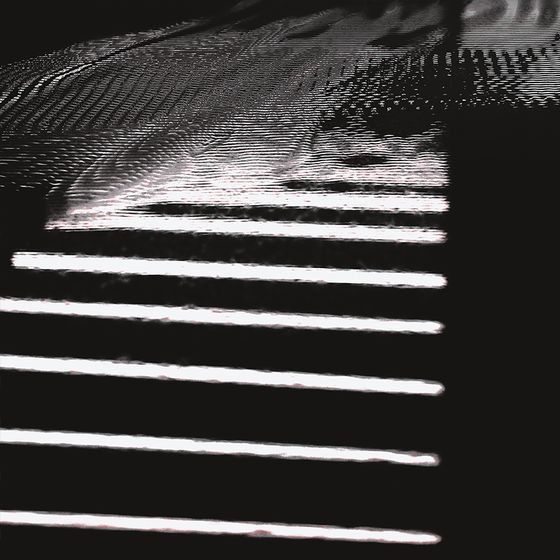 ---
LIZ WEST – "Our Colour Reflection" (2016)
I was particularly impressed by the installation of Liz West, which consists of 765 mirrors made of colored acrylic. These mirrors are illuminated and their colorful light is projected into the room. There are a total of 15 colors and the mirrors have a diameter of 30, 40, 50 or 60 cm and are mounted at different heights above the ground.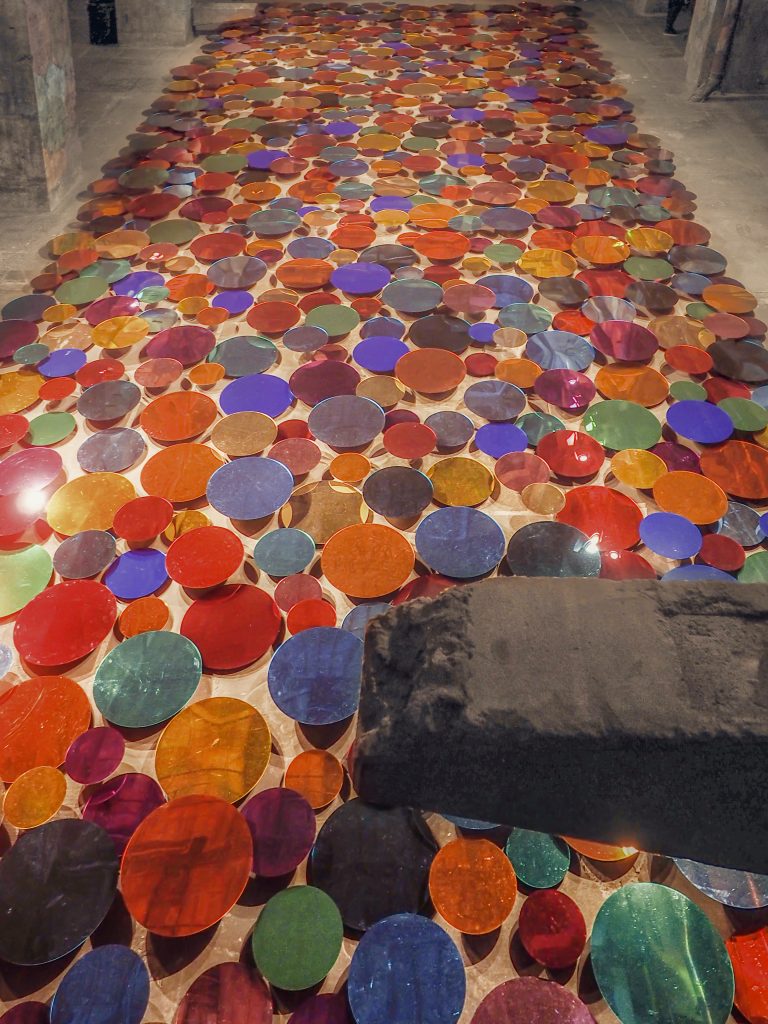 The architecture itself is reflected in the mirrors and is brought to light by the reflection on the walls themselves. The architecture of the old power plant is breathtaking anyway, with this installation it looks even more impressive, but also more playful.